THE SMALL CLAIMS COURT PROCESS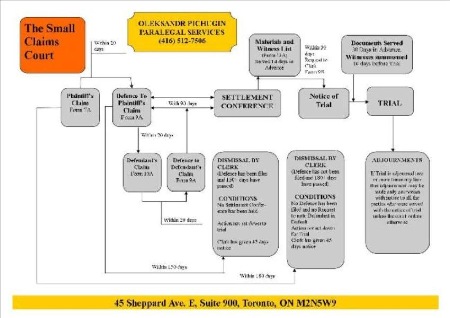 In Small Claims Court you can sue for maximum amount of $25,000 excluding costs and interest. In civil litigation, the person who sues called: Plaintiff and the person being sued called Defendant. Defendant can sue Plaintiff back in Counter-Claim, or can sue another Defendant, if there's more than one, in Cross-Claim.
Below you can find some examples of claims, which can be resolved in Small Claims Court:

* You have been fired. You want termination and often severance money from your former Employer;

* You want to have your invoice paid, and Defendant states that you performed defective work or provided faulty goods or services in the defence;

* You sue for return of a deposit, or a security deposit;

* You want your property back from your neighbour, friend, colleague, etc.;

* You sue for damages to your property, or for your injuries;

* You want a compensation from a Travel Agency for lousy trip;

* You claim damage to your car from un-insured driver;

* Car Rental Company sues you for damages to the rented car;

* You won in court, and now you want to get your money.


SMALL CLAIMS COURT OFFICE LOCATIONS IN GTA

BRAMPTON SMALL CLAIMS

7755 Hurontario Street, Brampton, ON L6V 4T6, Phone:905-456-4744

OSHAWA SMALL CLAIMS

150 Bond Street East, Oshawa, ON L1G 0A2, Phone:905-743-2800

NEWMARKET SMALL CLAIMS

50 Eagle Street West, 1st Floor, Newmarket, ON L3Y 6B1

RICHMOND HILL SMALL CLAIMS

855 Major Mackenzie Drive East, Richmond Hill, ON L4B 4X7

BARRIE SMALL CLAIMS

114 Worsley Street, Barrie, ON L4M 4S4, Phone: 705-739-6555

TORONTO SMALL CLAIMS

47 Sheppard Avenue East, 3rd Floor, Toronto, ON M2M5N1, Phone:416-326-3554

TORONTO ENFORCEMENT OFFICE

40 Dundas Avenue West, 4th Floor, Toronto, ON M5G 2G2, Phone: 416-327-5600